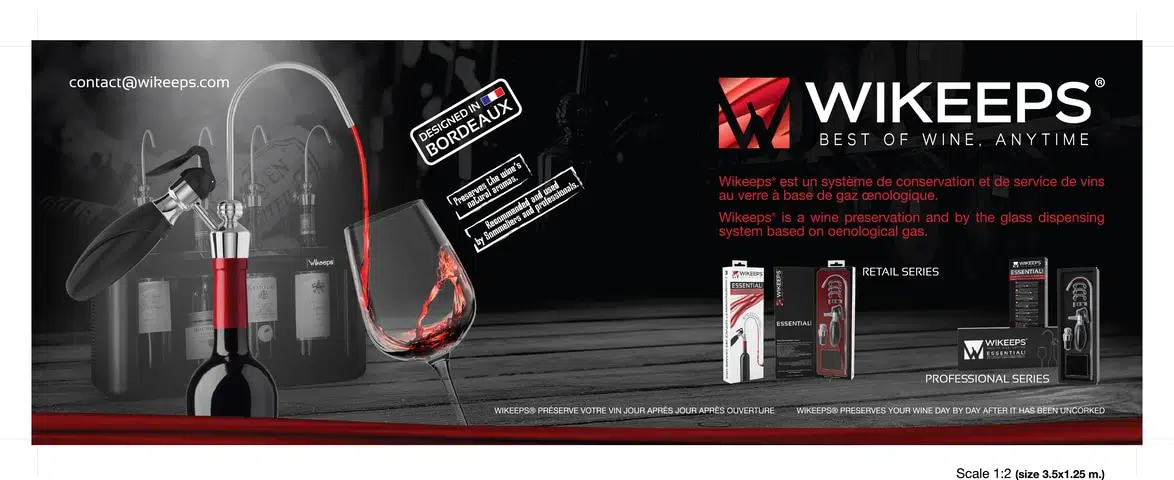 Optimal wine storage conditions so that it ages better in your cellar.
Conservation storage and aging
Once you have purchased your bottles, a minimum of rigor is required to ensure their preservation.
The essential parameters are listed below in order to define the ideal framework for wine conservation.
The first is the temperature at which the wine is stored: it must be constant and cool, between 10 and 14 °C. Thermal shocks are very bad, because the alternation of cold and warmth causes the cork to lose its elasticity, which then loses its effectiveness and let's air through, which will oxidize your wine.
Secondly, your bottle of wine must be laid down so that the cork is in permanent contact with the wine so that it does not dry out. Moreover, it is useless to turn your bottle in the cellar, as movements and vibrations are a factor of alteration of the wine.
The third point: the hydrometry rate. It must be between 70% and 80%. This humidity is necessary for the cork: it will allow the wine bottle to breathe. If the humidity level is too low, the cork may dry out, and the risk of oxidation is likely.
Conversely, if the humidity level exceeds 85%, there is a risk of mold growth.
When the ambient humidity is too high, labels come off, cartons disintegrate and musty smells develop.
It is these odors that can be transmitted to the wine through the cork.
The last point to take into account is the absence of light. Ultraviolet light will accelerate the oxidation reactions of the wine, which will hasten its evolution.
So in summary: remember to respect the criteria of temperature, hygrometry, absence of light, and keep the bottle lying down without moving it.
With this advice, you will be able to store your wines in an optimal way, and you will experience the tasting of wines that have reached their peak.
How do you achieve all these conditions for wine storage?
If you are not lucky enough to live in a house or flat with a beautiful, dark, quiet cellar with a constant temperature, there are solutions!
The conservation wine cellar will indeed meet all these conditions. Furniture of variable size according to the capacity of bottles, the wine cellars of conservation are easily installed in your interior without any concern. Whether it is in a dedicated room, a laundry room or a kitchen, the wine conservation cellar is the ideal tool for all lovers of good bottles.
What about the preservation of open bottles?
The conservation of open wine deserves to be considered according to the type of wine
In fact, the preservation of an open bottle of wine can vary depending on whether we are looking to conserve a still white, red or rosé wine or whether it is a bottle of Champagne.
Rosé and white wine are certainly the wines that will keep best, provided that the temperature of the wine is acceptable (a cool environment – 14-15 °C is ideal).
The conservation of red wine is more complicated. Depending on the winemaking process and the grape variety, keeping red wine open for more than a few days will require additional preservation systems.
There are wine preservation stoppers that work by pumping out the air in the bottle (vacuuming).
The problem with such a process is that we do not know how much air needs to be extracted for the wine to be well-preserved…
The result is that, in addition to the air, the tannins (the aromas of the wine) are also removed, and the wine is ultimately "attacked".
Wine lovers and professionals use inert gases (Argon / CO2) according to the same principle as during the wine making process: when the wine is put in a vat for "maturation", the air is expelled from the vat with inert or oenological gases such as Argon and CO2 in order to protect the von in the vat from any risk of oxidation.
Nevertheless, keeping the wine at a constant temperature remains an important parameter during this phase…
How long can the wine be kept open?
Thanks to these systems using neutral gases, the duration of an opened bottle of red wine can be extended to 2 weeks, without altering the aromas or organoleptic qualities.
This is how many professionals who serve you wine at tastings or during your visits to the winery can ensure their wine is preserved.
During your tastings, add our Wikeeps system to your wine bottles so that you don't risk losing your wine and can enjoy them for several days without altering the quality.
Spécialisés dans les vins dédiés à l'événementiel, les cartouches Wikeeps nous accompagnent quotidiennement et nous permettent d'optimiser nos dégustations. Nous en sommes ravis !
Cassandre Noguès
2023-05-04
Professionnelle de la restauration, j'utilise ces bouchons au quotidien. Ils me permettent d'assurer la meilleure qualité de champagne peu importe la quantité restante dans la bouteille. Fini les pertes! Je recommande vivement, pour les pro et les moins pro ...
GIULIANA FERRARI
2023-04-25
Qualità dei prodotti ottima ! Consegna rapidissima anche in italia ! 👍🏻👍🏻
CAFFE NOVECENTO "caffe novecento" TIRANO
2023-04-24
Je travaille avec cette entreprise depuis des années, tous leurs produits sont de la plus haute qualité. Livraison rapide et précise. BRAVI
J'aime consommer du bon vin avec modération... Wikeeps est l'outil idéal pour conserver la bouteille plusieurs jours. J'ai même rajouté la Wibox 2 pour gérer la température... J'adore !
Des cartouches pour la conservation du vin de qualité et au meilleur prix !