What if for Valentine's Day this year, you celebrate your two most beautiful love stories?
I'm obviously talking about your spouse but also your love for wine (which you love to madness, but consume in moderation)!
Put away your flowers and chocolates! Get out two glasses and a corkscrew!
A good idea to celebrate love: an exceptional wine for Valentine's Day
Which wine should we choose for our Valentine's Day?
You will certainly need to look at a more global research around your evening to match food and wine. To do the best, prepare the meal and plan the wine(s) associated with your dishes. Above all, remember to respect the order in which the wines are tasted: Sparkling wine first, dry white wine, then red wine and finally sweet wine.
White wines
he great white wines of Burgundy will automatically seduce delicate palates. These wines are sure values that will accompany all fish and even poultry or white meats. Some ideas: scallopsris de veau/Turbot fish/Sandre….
Red Wines
Let's retain the Margaux, the safe solution. Imperial on lamb, but also on red meats and game without forgetting poultry. It is a great all-rounder.
We hope that these few proposals will have made you want it. With a budget of about fifty euros, you will transform a very good meal into an unforgettable memory.
What a Valentine's Day gift to go with wine ?
Is your stress skyrocketing at the thought of having to find a gift for your significant other?
We have for you the perfect gift for wine lovers, our essential  box will allow all wine lovers to enjoy very good wines by the glass during this evening, while preserving them for several days after opening.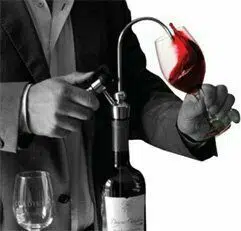 Indeed, the injection of a neutral gas in the bottle, a mixture of Argon and CO2, allows preserving the wine and to keep all its organoleptic qualities in the glass. This food gas, inert the bottle at each service and creates a protective atmosphere totally neutral for the taste and smell. Protected from oxidation and contact with air, the wine retains all its qualities and aromas for up to 20 days after opening the bottle.
The function of Wikeeps® is thus twofold: in a single action you easily serve your wine by the glass during Valentine's Day and you inertize the bottle by injecting Wikeeps® oenological gas.
You can find a special Valentine's Day offer as well as the whole range of products on the website Wikeeps.com
Join us, join WIKEEPS!
Follow WIKEEPS® on Facebook , Twitter and  Instagram to know all about our clients news and product updates !