Preserving red wine is the least difficult.
It is possible to keep it for 2 to 3 days depending on the bottles. But what about for longer storage? The temperature, the light, the composition of the wine and the amount of oxygen in the bottle are the factors to take into account to avoid spoiling your wine.
Classic preservation techniques
To keep your wine as well as possible, it is advisable to keep it in a cool room below 15 °C.
The heat being a factor of acceleration of the oxidation of your wine. Store your bottles in a dark place. UV is not their friend (it's no coincidence that red wine bottles are tinted).
You can opt for a closet, a locker or a room without light. This can only be beneficial for your wine. Despite this, your wine will oxidize quickly within 48 hours after opening. The ideal solution to preserve your wine over time is a system specially designed for wine preservation.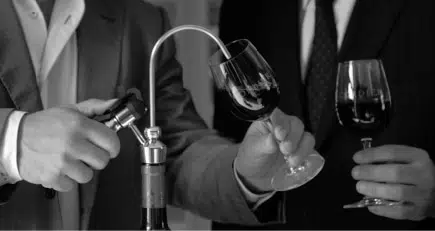 Preserving open red wine with Wikeeps®
Wikeeps is the unique and patented French wine service, storage and serving system that keeps your bottles of wine for up to 4 weeks after opening, while ensuring the distribution of wine by the glass.
Wikeeps uses an oenological gas perfectly suited to the preservation of all types of wines, composed of 80% Argon and 20% CO2, a mixture used in the vats by the winegrowers to prevent oxidation during the vinification phase.
The system brings the oenological gas into the bottle, taking the existing place between the wine and the bottle, the wine is no longer in contact with the air and prevents the phenomenon of oxidation.
The Wikeeps system, already used and approved by many professionals, is the perfect ally for the conservation and the service of wine by the glass.
To perfect the wine service in restaurants, WIKEEPS offers a wine storage cellar from 2 to 8 bottles that maintains the bottles at the ideal temperature.
WIKEEPS products therefore meet the three required components of wine by the glass:
– storage over 4 weeks after opening the wine without oxidation,
– immediate aeration + ideal wine temperature,
– elegant and vertical service of wine by the glass, preventing to get impureties in your glass
Ideal for making profitable the wine by the glass activity in catering, this countertop cellar + Wine conservation system offer is also widely used by estates to optimize the cost of tastings during periods of low wine tourism traffic.