The festive season is a unique time, a time when families come together to share unforgettable evenings and meals. These precious moments only come around once a year, making the choice of meal theme all the more important.
Lobster: A Luxury Choice
Whether it's capon with potatoes or large baked sea bream, the choice of main course is essential. However, for those looking to make a lasting impression with an original, high-end dish, lobster is the obvious choice.
This luxurious crustacean, usually sold for between €50 and €70 live, is the ultimate festive dish. Those who live near the ports of the Côte d'Armor may even be lucky enough to get it at a lower price. Count on one lobster for two guests.
Wine and lobster
But what wine should you serve with lobster? How can wine by the glass be served to best advantage? To complement the delicate taste of lobster and homemade mayonnaise, a white Burgundy, such as a Puligny Montrachet, would be the ideal choice. Served between 10° and 12°C, this wine will reveal all its aromas and sublimate the dish.
Improve service with Wikeeps
Our Wikeeps glass serving system makes serving wine an art. The precise pouring accessory prevents unnecessary spillage that could stain your beautiful white tablecloth.
Preserving wine after opening
After opening the bottle, how do you preserve the delicate flavors of such a wine? This is where Wikeeps excels. Our solution includes the addition of a patented argon-based oenological gas to the bottle to preserve the quality of the wine and ensure that its flavors remain intact for up to 20 days after opening. Discover how Wikeeps is transforming wine service and preservation for the festive season.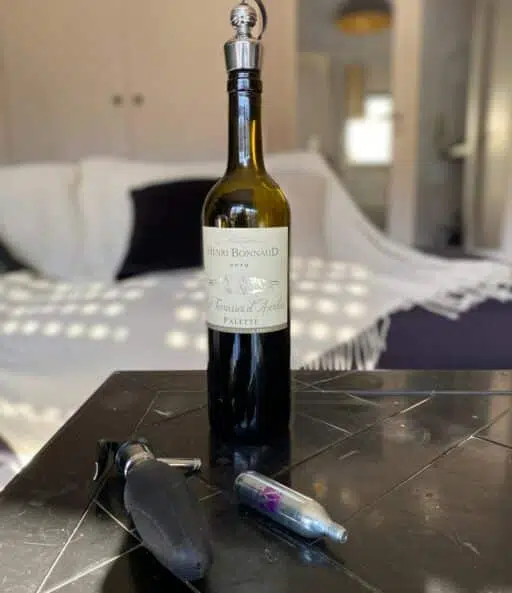 Don't hesitate to follow us on Facebook and Twitter to keep up with our wine-by-the-glass news and find out more about our products. See you soon!